These red blooded women can't keep their hands to themselves.
They say sex sells. Well sometimes you've just gotta give the crowd what they want which is exactly what these sexy sirens decided to do, producing some of the most eye-wateringly intimate and downright debaucherous come-hithers known to man. To celebrate the end of a cold and wet January I have whipped up this hot n' heavy playlist which I have designed to be a non-stop sex fest. So expect some sultry hyperventilating, suggestive subtext and outright filth bound together with some of the dirtiest basslines around. It's Britney-approved:
I've picked out some of the highlights from the playlist which deserve a bit of further attention. No nuns allowed:
The perfect way to start off a steamy night in is with a cheeky bit of dirty talk. "I wanna do some dirty things to you tonight". Ooh err! On "Dirty Talk" Wynter Gordon makes no apologies for loving sex, spending half the time naming all her favourite positions and toys. This is a song which wears it's heart on its sleeve and celebrates everything naughty.
Further reading on How to Dirty Talk:
http://www.sexcigarsbooze.com/2010/06/how-to-talk-dirty-50-examples-that-will-make-you-blush/
Selena Gomez – Hands to Myself
No more Miss Nice Girl. The former-Disney star has lived through the drought of "A Year Without Rain" and has grown sick of waiting for her man to "Come and Get It". On the provocative "Hands to Myself" Gomez is the wide-eyed ingenue no more, exploring the dangerous side of obsession and discovering how good it feels to be bad.
"It's Britney Bitch". What sexy playlist would be complete without a smidgen of Kinkney? There were so many tracks to choose from but I settled on the carnal "Gimme More" because of the way it strips sex back to its purest form. The track and video (in which the former-child star appears as a Stripney) have a raw, unfinished quality which suggests a primal, animalistic attitude towards sex. "Gimme More" also harks back to the Darkney days of 2007 when she had a trip to the barbers and came back 10 pounds lighter.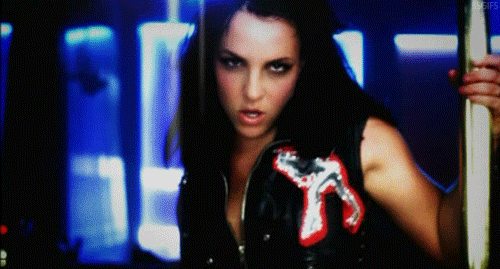 "Oh, my God, I am heartily sorry for having offended Thee
And I detest all my sins
Because I dread the loss of heaven, and the pain of hell.
But most of all because I love Thee,
And I want so badly to be good"
Some say that religion and sex are natural enemies. Not Madonna. She has forged a career of disproving this theory. After a relatively quiet period for the Queen of Pop in terms of church-bashing , she returned in style with the devilish "Girl Gone Wild", which was released in 2012 as the second single from Madonna's twefth studio album MDMA. It remains on of Madge's most underappreciated dance-pop tracks and the lusts of the flesh video with Ukrainian men dancing in heels one of her most striking visuals to date. I defy you not to feel a little bit naughty after listening to "Girl Gone Wild".
"Feels so good being bad". Amen to that! Rihanna's music had always been sexually charged but the electropop kink-fest "S&M" took it to a whole new level of nasty. On the track, which was released as the third single from her fifth album Loud, Rihanna morphs into a wanton sexbot with heavily processed vocals and a high energy club beat.
Moreover, in the "S&M" video Rihanna manages to do humanity the big favour of putting Perez Hilton on a leash. If only she'd left him there…
Also, "S&M" is credited with uniting two of the sexiest gals in the biz for a sexy pillow fight in this outrageously showstopping performance featuring the one and only Britney bitch!
Lady GaGa Feat. R Kelly – Do What U Want
GaGa's ARTPOP era may have been a complete shambles but die-hard fans managed to salvage this salacious collab from the wreckage. Synthpop jam "Do What U Want" boasts one of the skankiest basslines of all time and some powerhouse vocals from GaGa and R Kelly. It never did get an official video but we were treated to this White House themed performance at the AMA awards 2013:
Janet Jackson – All Nite (Don't Stop)
We always knew that Janet liked her bass down low but "All Nite (Don't Stop)" took it to a whole new level of delicious depravity with a combination of seductive moans and a dirty funk bass guitar line. The hot and heavy "All Nite" underperformed on the charts after it was blacklisted in the US in the wake of controversial Superbowl Halftime show incident but it never fails to get me moving.
Also, it turns out that Nipplegate was pretty important moment in history with the Guinness Book of World Records naming Nipplegate the "most searched item in Internet history."
Also, apparently the incident inspired YouTube to be created in 2005:
"A young software programmer at PayPal named Jawed Karim is unable to find any video of the Jackson Super Bowl performance online. Frustrated in his attempts to find footage, Karim and some friends create a venue where people can easily upload and share video. Thanks to the scandal, YouTube is born in 2005. A year later, Google purchases the site for $1.65 billion".
Further reading: http://www.rollingstone.com/culture/news/nipple-ripples-10-years-of-fallout-from-janet-jacksons-halftime-show-20140130#ixzz3yrI2PqLc
After the departure of founding member Siobhan Donaghy the Sugababes made a triumphant return in 2002 with freshly-ground vocals and a no-nonsense new attitude. Richard X-produce electrofest "Freak Like Me" shows the babes as seductive vampires ensnaring their prey and biting their way through the male population with gleeful abandon.
Disclaimer: no men were harmed in the making of the video.
Kylie Minogue – Red Blooded Woman
Coming off the back of her commercial smash album Fever Kylie decided to sex it up even more on her next record with the freaky "Red Blooded Woman". The racy video sees the saucy siren caught in a traffic jam and dancing on a lorry. I just want to make Kylie aware that if it all goes south from now on she is more than welcome to entertain people by grinding on automobiles during gridlocks.
'I'll make your toes curl up and make your body scream" saved the naughtiest track on the list to last and, trust me, this one would make even the most oversexed teen raise their eyebrows. Kelis doesn't hold back with expressing her fantasies on the almost too indecent "In Public". The  Nas comes along and somehow manages to out-filth Kelis with his X-rated rap.
Hope that left you feeling hot under the collar and there's plenty more to enjoy on the Girls Gone Wild Spotify Playlist. Thanks for reading and please feel free to share, like and comment. May the filth be with you.