Be excited because Gwennie Gwen Gwen is back with a new album and single "Make Me Like U". Have a listen here!
Our favourite Orange County Girl has ever been the sultry, cool alternative to our beloved pop princesses. On the eve of the release of her third album it's easy to forget what a big footprint Stefani has left on music with her impressive body of work. From break ups to bindis to Harajuku Girls, lest we forget that cerca 2004-2006 Gwen Stefani was hot property boasting a string of international chart toppers and cultivating a inimitably kooky style that only she could pull off. She is one of the most versatile and musically innovative singers of her generation blessed with a voice which is instantly recognisable and utterly unique. To celebrate the release of Gwen Stefani's third solo studio album This is What the Truth Feels Like on March 18th, I feel the time is right to look back at the 46 year old's impressive discography:
15) Gwen Stefani – 4 In the Morning
Stefani lost in melancholy. "4 In the Morning" was released as the third single from The Sweet Escape, Stefani's 2006 follow up to Love. Angel. Music. Baby. This Madonna-esque synthpop ballad is one of Stefani's strongest downtempo songs and puts her innocent, girlish vocals firmly at the forefront.
14) No Doubt – Simple Kind of Life
By the release of No Doubt's second studio album, 2000's Return of Saturn, Stefani had started pining for domesticity. On the morose "Simple Kind of Life" Gwen declares her need for marriage and family but eventually recognises that her independence is more important. The single became the only song to chart on the US Billboard Chart from Return of Saturn and remains one of the band's most understated singles.
13) Gwen Stefani – Used to Love You
After failed lead singles "Baby Don't Lie" and "Spark the Fire" failed to ignite the charts, Stefani decided to take a more personal approach to her songwriting. Inspired by the end of her 13-year romance with Gavin Rossdale "Used to Love You" is a confessional ballad and one of Stefani's most potent tear-jerkers, proving that honesty really is the best policy.
For their third album 2001's Rock Steady No Doubt decided to dip their toes into grittier waters which resulted in the bassline-heavy "Hella Good".
11) Gwen Stefani Feat. Eve – Rich Girl
Eve's first but not last appearance in this list. Urban-flavoured banger "Rich Girl" borrows a sample from Fiddler on the Roof's "If I Were a Rich Man" to create pop chart gold. "Rich Girl" was released as the second single from Love. Angel. Music. Baby in 2005 and attained massive chart success worldwide.
No Doubt decided to go on hiatus in 2004 but before they did we were treated to a Greatest Hits collection The Singles: 1992-2003. Although we technically didn't get a new song with the project, we did get this spectacularly bombastic cover of Talk Talk's "It's My Life". Stefani is ravishing in the video as a black widow sentenced to death for murdering three men. The Devil truly does wear Prada.
9) No Doubt Feat. Lady Saw – Underneath It All
This is No Doubt at their most sweet. On the reggae-tinged "Underneath It All" Gwen declares that, beneath the façade, her boyfriend Gavin Rossdale is actually quite nice . Bless. "Underneath It All" was released as the third single from Rock Steady in 2002 and became a smash in the US and one of the band's biggest hits there. It also won the long-windedly titled Grammy for Best Pop Performance by a Duo or Group with Vocal. On a side note, superb ad libs from Lady Saw on this track.
8) Gwen Stefani Feat. Akon – The Sweet Escape 
All the best pop songs are written in 10 minutes…Said nobody ever. Until Gwen Stefani and Akon that is. With this 2007 doo-wop banger Stefani declared she was back in style and she was proved quite right when it soared to the top of the charts worldwide. "The Sweet Escape" finished 2007 as the second best-seller of the year in the US. "Woohoo. Yeahoo".
This 1980's style synthpop ballad is straight out of Taylor Swift's 1989 songbook. Only 10 years before. Upon first glance, it seems to be light and breezy summer fare, but lyrically not as disposable as its production would have you believe. Retro-kitsch sounding "Cool" is the perfect ode to post-break-up friendships, drawing inspiration from Stefani's relationship with former boyfriend and fellow member of No Doubt, Tony Kanal.
After two unsuccessful albums No Doubt suffered the loss of their keyboardist and songwriter Eric Stefani (Gwen's brother) which left Gwen as the primary songwriter. At the time Stefani was frustrated with gender stereotypes because, despite pushing 30, her dad got angry at her for staying late at her then boyfriend Tony Kanal which inspired her to write "Just a Girl". On the track she sings about female stereotypes such as being perceived as weak and needing to be looked after. This was No Doubt's breakthrough single in the US and became a big hit in the UK after the release of "Don't Speak".
5) Eve Feat. Gwen Stefani – Let Me Blow Ya Mind 
Stefani may only feature on "Let Me Blow Ya Mind" but her first foray into life without her band was a resounding success. The Eve-Gwen tag team got its first airing with this squelchy-beated banger in 2001, showing that Stefani's versatile voice can easily lend itself to hip-hop. For their efforts the song won a Grammy Award in 2002 for "Best Rap/Sung Collaboration". An encouraging start by any stretch of the imagination.
4) Gwen Stefani – Hollaback Girl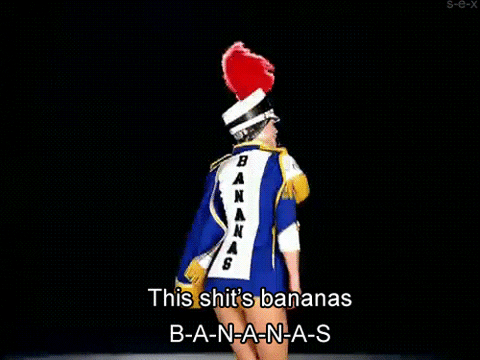 Without a doubt Stefani's most divisive song. In fact, "Hollaback Girl" has been frequently described as one of the most annoying compositions of all time. The track was written when Stefani and Pharrell decided that  her 2005 Love. Angel. Music. Baby album needed an "attitude song". Whatever that is. So Gwen decided to write about a comment Courtney Love made in an interview with Seventeen magazine.
"Being famous is just like being in high school. But I'm not interested in being the cheerleader. I'm not interested in being Gwen Stefani. She's the cheerleader, and I'm out in the smoker shed"
Stefani responded in the March 2005 issue of the NME:
"Y'know someone one time called me a cheerleader, negatively, and I've never been a cheerleader. So I was, like, "OK, fuck you. You want me to be a cheerleader? Well, I will be one then. And I'll rule the whole world, just you watch me."
No-one really knows for sure what a Hollaback Girl is….except from presumably Gwen herself (though it's doubtful she even knows). Despite critical misgivings, this tribal chant, hip-hop stomper was a massive hit in the US, becoming the first digital download to sell a million copies in the US. Like it or not, no other artist has ever sung about bananas as convincingly as Gwen.
3) No Doubt Feat. Bounty Killer- Hey Baby
The Jamaican dancehall influenced "Hey Baby" is a triumphant rallying call for all No Doubt fans. From the start it's a chaotic party starting jam which is impossible to ignore. The track contrasts No Doubt groupies' naughtiness and debauchery on the Return of Saturn tour with Stefani's dissatisfaction at her long distance relationship with Rossdale. It won the band their second consecutive Grammy for Best Pop Performance by a Duo or Group with Vocal. Greedy much…?
2) Gwen Stefani – What You Waiting For?
The lead single from Stefani's first solo album Love. Angel. Music. Baby was typically eye-catching (should that be ear-catching), introducing us to Stefani's crazy, kooky world complete with Harajuku Girls and a topsy turvy Alice in Wonderland inspired video. After the announcement of No Doubt's hiatus, Stefani was literally forced into a chokehold by prolific singer songwriter Linda Perry who demanded they write songs together. The initial session proved to be unfruitful due to Stefani's lack of confidence without her band, which resulted in a bad case of writer's block. This inspired Perry to form a skeleton of the song "What You Waiting For?" as a way to empower Stefani. The rest, as we say, is history.
The best and probably the saddest song on this list. Written about bandmate Tony Kanal after he ended their seven year relationship "Don't Speak" was released as the third single from the bands breakthrough album Tragic Kingdom, but it was almost the single that never was. In 1996 tensions were riding high in the band and they were on the verge of breaking up but decided to film a video for "Don't Speak" as a form of therapy. As a result, the video is brutally honest in showing the source of the tension with the band mostly in the background while Stefani receives all the attention. Upon release "Don't Speak" became their band's biggest hit to date, peaking at No. 1 throughout the world and eventually selling over a million copies in the UK as of 2015 (after almost 20 years of sales!). While the song was extremely popular in the US, "Don't Speak" did not chart on the Billboard Hot 100 (chart rules back then required a physical single be issued for a song to chart and the band never released one for "Don't Speak"). However, it did manage to stay at number one on the Billboard Hot 100 Airplay for 16 weeks, a record at the time.
Now that's what I call a formidable discography. Let's hope Stefani's new stuff is just as good. Fingers crossed. Thanks for reading and feel free to comment, like and share. Here's a lovely Spotify playlist to listen to all Gwennie's songs mentioned here and a few cheeky extras: